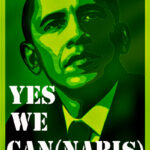 Obama and crew recently launched a Digg style service for asking questions and followed up with a town hall meeting addressing those questions. That, alone, is brilliant. However, the results of this approach really surprised me. From Newsvine:
Obama told the audience Thursday that one of the most popular questions was whether legalization of the illicit drug would help pull the nation out of the recession. The president jokingly said: "I don't know what this says about the online audience."

In a serious response, he said he didn't think that was a good economic policy.