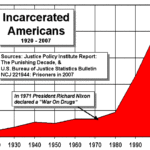 Intro
The story behind marijuana and the law is long winded and rather upsetting. For a good overview, I recommend watching Grass. We somehow decided that alcohol and tobacco are ok, but pot is not? At the end of the day, it's just a plant!
There's little reason to preach anymore. I have a hard time finding people who think marijuana should be illegal. I'm sure there are DEA agents who would disagree (unemployment?!), but even law enforcement is starting to get behind a legalization movement. Well, some law enforcement. Derek would think otherwise.
My biggest concern is that my tax money is being spent to put people behind bars that I really don't think should be there. Lives are destroyed because of marijuana laws. And I'm helping to pay for this? I feel dirty!
It seems that rallies and protests don't really DO much anymore. So what would? I have an idea!
The Idea
The idea is a peaceful protest that sends a message. Only, the message is directed at those in jail, not the government itself.
We could use public records to build a list of people who've been put in jail for nothing more than Marijuana based crimes. Growers, dealers, whatever… so long as they didn't slaughter a bus full of nuns.
Then we take the list and start by sending apology letters on behalf of concerned American citizens. We say, "look, we're sorry you're in the slammer and we're actually paying for you to be there… we're trying to get the laws changed but until we do, we wanted to at least let you know we're thinking about it…"
As a step further, maybe folks would want to send gifts – comfort items. Bags of Cheese Puffs?
While the message would be directed towards inmates, I think it would send a bigger message of compassion. It's a break away from the stereotypical "we're going to march on Washington and show our anger" approach that obviously didn't work.
I wouldn't know where to start to organize something like this, but I would definitely contribute to such an effort. Maybe the folks at NORML could make it happen?
Uncategorized Cannabis, Idea, Jail, Legalization, Marijuana, Pot, Prison, Protest