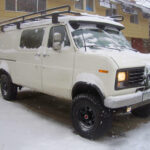 Polar Bear in FruitaIt's been over 9 months since I last blogged about Polar Bear's status. A lot can happen in 9 months. I've invested a fair amount of blood, sweat, and tears.
I laid down new flooring. Currently I have bed liner coating against the metal, a foam later next, wood on top of the foam, and finally a vinyl mat on top. Ultimately, I'll lay carpet in key areas. This is the single biggest improvement in sound dampening yet.
For a while, I installed a roof top tent on the roof rack. The rack was a huge project, but cost me less than $150.