I Can Haz Motorcycle Skillz?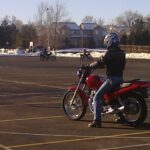 As part of the whole van vision, I'm wanting to put a dual sport motorcycle on the back like Badgertrek. I've never owned a motorcycle nor a license. This weekend, Nino and I attended an Abate motorcycle course. The course was a little slow for my tastes, but very thorough. The part where we actually got on some bikes and took to the course was fun. We logged about 25 extremely slow miles over the course of this weekend. All in all, I would definitely recommend this course both to someone like us – inexperienced – as well as someone who just wants to learn some good safety habits.
Having completed the course, all we need to do is give the DMV a few dollars and we'll be ready to hit the streets. Well, first I'll have to actually buy a bike. That will be a whole new adventure.