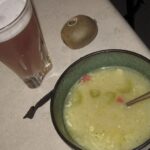 Editorial Commentary
It seems I like to post on Wednesday nights. Actually, since I do Yoga on Wednesdays, it gives me a chance to weigh in on the scales at the gym – which I assume are considerably more accurate than the Target scale in my bathroom. Speaking of weight, tonight I was 171… and a half. I could round up to 172, but I was actually close to 171… but since I was so close to the exact halfway mark, it seems like cheating.
Nino headed out the Burning Man on Saturday. I spent 3 hours helping to load the traier that day. I did some mountain biking the next. Monday I hit the gym hard with a 2.5 mile run, solid floor routine, and wrapped it up on the weight machines. Tuesday I struggled to make it through my day and didn't get any exercise in. Tonight I did my yoga and some weights. I'm slacking a tad more than I wanted, but I'm actually keeping a fairly good rhythm.
In terms of food, I've been doing really well. I did have a donut Saturday morning. It hit my stomache like a rock. Yesterday, I made up for no exercise by not eating much. It wasn't on purpose, they day flew by. By 4pm, I realized I'd only eaten a bowl of cereal all day. I grabbed a granola bar to hold me until I had a bit of meat and spinach for dinner. But, otherwise, I've maintained a fairly good diet. Oh yeah, sometime last week I had a beer… Oh my, it was so good.
Diet
Breakfast: 1 cups generic Grapenuts (not as good), 1/4 cup unsweetened almond milk, 2 shots espresso
Lunch: Mandarin chicken salad from Wendy's (minus some dressing).
Afternoon Snack: Nutrigrain blueberry cereal bar, 2 shots espresso
Dinner: 1 bowl chicken veggie soup, some beef jerky, 1 kiwi berry (NOM!), 1 glass mixed water, cranberry juice, vitamin water, and Emergen-C
Exercise
1 Hour Yoga
Few minutes of free weights
Measurements
Weight: 171.5lbs