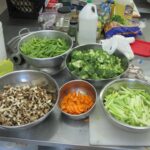 Editorial Commentary
My server time was off. My last post was dated a Thursday but actually made on a Wednesday. But, whatever, I'm pretty sure today is the 16th day into this thing. This past weekend I took an amazing backpacking trip. We hiked several hours a day on Friday, Saturday, and Sunday. That makes me feel a little better about not getting any exercise on Monday and Tuesday. And the fresh cutthroat trout we snagged out of the lake and ate made me feel better about those yummy smores. Nom.
Today I got back into it with some Yoga. Tomorrow, I hope to get some rock climbing in. I had a biking adventure planned yesterday, but I was at the office until after 7pm. Between being busy at work and trying to prepare for Burning Man (attached pic is from food prep for BM) at the end of the month, I'm staying pretty darn busy. This fitness thing has proven a challenging commitment to keep, but I'm making progress.
Diet
Breakfast: 1.5 cups Bare Naked Peak Protein, 1/4 cup unsweetened almond milk, 2 shots espresso
Lunch: 1 fat plate of Indian food – mostly grilled chicken and steamed veggies.
Afternoon Snack: Just another cup of coffee.
Dinner: 3 strips grilled chicken breast,1 scoop wild rice, 1/2 grilled zucchini, little bit of onion, red bell pepper, and squash
After Workout Snack: I don't know yet… popcorn? I think we're out of fruit.
Exercise
1 hour yoga
Measurements
Weight: 174lbs