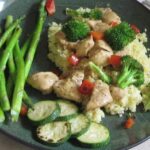 Editorial Commentary
I took Sunday off the eating cycle as per Tim Ferriss' recommendations. I didn't eat "what I wanted" so much so as what was available. I had 3 bagels that day. Otherwise, I've been keeping the diet very close to the meal plans I've shown in previous posts.
I've also kept the exercise going as well. The bike loop that nearly made me black out on Day 2 was much easier on Monday. So much so, that I hiked back up the trail and ran a little of it with Nino. Near the end of last week, I was feeling horrible. Today I feel pretty darn good. I figure that I was either a) fighting off a bit of sickness or allergies or b) explunging a lot of toxins breaking loose in my body from the sudden burst of exercise. Or maybe it's c) something else entirely.
The big shocker to me came today when I stepped on the scale at the gym. Let me roll back for just a second and mention that I picked up a bathroom scale at Target. The scale from target has consistently shown my weight at over 180lbs – up to 188lbs once. Meanwhile, the scale at the gym has never gone higher than 179. Anyway, when I got on the scale today, I was 176lbs. I expected to have lost a little more than this.
The attached photo is from a meal the other day. This one was prepped by Nino, and it was pretty yummy. I also took a "week in" photo on Monday. I can see a bit of difference, but not a whole lot.
Diet
Breakfast: 1/2 cup Grapenuts , 1/4 cup Sweetened Almond Milk, 2 shots espresso
Lunch: 1 baked filet of Talpia (breaded on the top side), 3/4 cup cooked white rice (bad carbs, I know), big pile of mixed greens and spinach (eaten post workout)
Afternoon Snack: Strip of beef jerky, 1 fruit bar (120 cal), 2 shots espresso
Dinner: 1/4lb Carne Asada, 2 cups mixed sauteed veggies (green beans, red bell pepper, some other stuff), pile of spinach
Post Workout Snack: 1 Kiwi (nom!)
Exercise
30 minutes of indoor rock climbing over lunch
1 hour yoga in the evening
Measurements
Weight: 176lbs
(note: date stamp and title edited to adjust for a previous server time error)