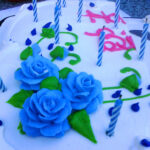 Editorial Commentary
I feel like my fitness plan has officially kicked off. Today I maintained the regiment, finishing my third day. If can keep at it, I should see some change both in my physical appearance and my endurance. I didn't take a photo of any meals tonight. Instead, I'm posting a photo of Nino's birthday cake from last month – since it's part of what I've gotta burn off.
Diet
Breakfast: 2 strips of turkey bacon, 1 2-egg omelet (almond milk, onion, red bell pepper, sirloin, spinach, and sharp cheddar), 1 calcium supplement, 1 Flexamin
Lunch: $8 worth of salad from Whole Foods (wide variety of veggies, oil & vinegar dressing)
Afternoon Snack: 1 Nature Valley granola bar.
Dinner (also after workout today): 1/4 lb bison steak, ~8 grilled shrimp, sautéed  veggies (squash, asparagus, red bell pepper), 1 multivitamin, 1 Flexamin
Exercise
1 hour yoga
~20 minute floor routine (crunches, wheel-o-death, leg lifts, etc.)
Measurements
Weight: 177lbs