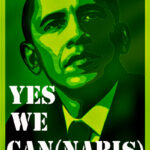 Obama and crew recently launched a Digg style service for asking questions and followed up with a town hall meeting addressing those questions. That, alone, is brilliant. However, the results of this approach really surprised me. From Newsvine:
Obama told the audience Thursday that one of the most popular questions was whether legalization of the illicit drug would help pull the nation out of the recession. The president jokingly said: "I don't know what this says about the online audience."

In a serious response, he said he didn't think that was a good economic policy.
Saving $22 billion in 2009 isn't a good economic policy?
I could tell at a glance that the topic of Marijuana and drug law reform dominated the proposed questions, but I wanted numbers. I wrote in asking for percentages. I don't expect to hear back. Meanwhile, I decided to do some rough calculations.
Here's what we know: 92,931 people have submitted 104,106 questions and cast 3,606,639 votes.
The average question received 34.6 votes including both check votes (positive) and x votes (negative).

A search for "Marijuana" produced 2,139 results. Thus, about 2% of the submitted quesitons are about Marijuana reform.
The first ranked question received 7,924 check votes. That's 0.2% of all votes. It's also nearly 62 TIMES the average number of votes. Additionally, since a single user can only vote on a single question once, 8.53% of all users of the site check voted this single entry.

The top 20 of these totaled 85,253 votes. That's 2.4% of all votes. However, this does not help us. On the one hand, many of these votes may be by the same voters. On the other hand, this is strictly for a search on Marijuana. There are still many topics posted about drug reform, including:
What are your plans for the failing, "War on Drugs", thats sucking money from tax payers and putting non-violent people in prison longer than the violent criminals?" Matt B, West Bend, WI
This question did not come up under my Marijuana search. How many votes? Try 7,487 check votes.
So how do these numbers compare to other topics? The second most popular question /not/ about Marijuana and drug reform was on Health Care and raked in 6,422 votes followed by Education at 6,153 votes. Most issues covered by the questions do not have showings nearly this strong.
Finally, I did a search for "the" in an attempt to pull as many results as possible (you can't see them all at once). My search returned 78,109 questions. On the top 10 highest voted, 7 (including the top 3) were about Marijuana and drug reform.
I'm just a little surprised that with the landslide of votes on the topic, Obama seemingly blew it off with no serious discussion. Looks like the tax payers will continue to spend $600 a second putting another 2 million people in jail this year. What an epic waste of money.